Goaso Manhene Urges Ahafo Residents to Embrace Savings Culture for Financial Prosperity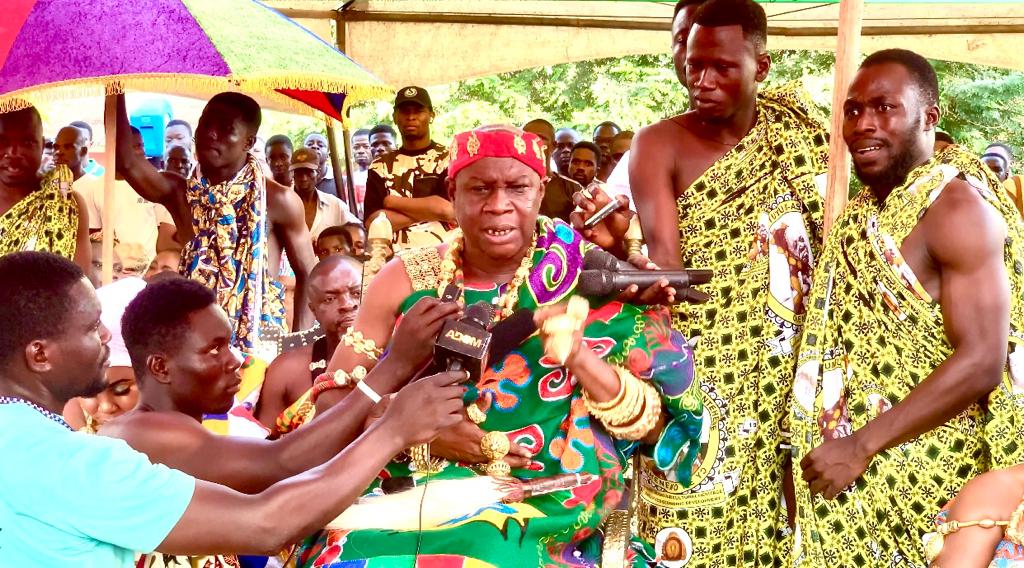 In a compelling call for financial prudence and long-term planning, Nana Kwasi Bosomprah I, the esteemed Paramount Chief of the Goaso Traditional Council, has urged the residents of the Ahafo Region to adopt a disciplined approach to their expenses and cultivate a culture of savings. The chief delivered this message during the commissioning ceremony of the newly constructed state-of-the-art building of Opportunity International Saving And Loans Limited in Goaso.
Nana Bosomprah emphasized the significance of creating wealth and securing one's future by exercising control over expenditures. He emphasized the need to transition from the common practice of hiding money within the confines of homes, often prone to theft by house helpers. His words echoed the collective sentiment of responsible financial management and the importance of building a robust financial foundation.
"Developing a culture of savings is imperative for our individual and communal growth," Nana Bosomprah stated. "By curbing unnecessary spending and embracing prudent financial planning, we can achieve our goals and secure a prosperous future for ourselves and our families."
The occasion marked not only the commissioning of a remarkable building but also an occasion for the Ahafo Region to reflect on its financial habits. The Paramount Chief lauded the management of Opportunity International Saving And Loans Limited for their professionalism and commitment to excellence, noting that such institutions play a vital role in fostering financial literacy and responsible monetary practices.
Mr. Eric Kattey Essem, the Board Chairman of Opportunity International Saving And Loans Limited, further emphasized the institution's overarching mission. The aim is to empower even the physically challenged members of the society to transcend societal misconceptions and demonstrate their capabilities. To accomplish this objective, the institution has introduced flexible loan schemes tailored to the unique needs of these individuals.
"Challenging circumstances should never define a person's potential," Mr. Essem asserted. "By providing accessible financial services to the physically challenged, we are not only changing individual lives but also challenging societal norms."
The commissioning event underscored the open arms of the Goaso community to welcome entrepreneurs, organizations, and individuals interested in pursuing business endeavors. Nana Bosomprah highlighted the wealth of market opportunities available in Goaso and encouraged collaboration that aligns with the community's growth and development goals.
In conclusion, Nana Kwasi Bosomprah I's message resonates far beyond the commissioning ceremony. It serves as a reminder that responsible financial management, disciplined spending, and a culture of savings are integral components of achieving personal and communal financial prosperity. The Ahafo residents now stand at a crossroads, empowered to make conscientious choices that will shape their financial futures positively.